What follows is a fair transcript of a talk I gave on Monday January 11 at the University of Derby Online (UDOL) annual Academic Conference.
In the nearly three years since I left UDOL, a small strand of my work has been to do with MOOCS. The overarching organisation that I currently sit within is Health Education England (HEE), the workforce development arm of the NHS in England. I guess one of the most significant things I've done in relation to MOOCs in my current role is to help steer HEE to sign up as a partner with FutureLearn. So the NHS will soon be contributing MOOCs to that platform.
My team have contributed content to and supported the development of several of FutureLearn's genomics courses and we'll have our first FutureLearn MOOC in our own right in opening for enrolment in the next few weeks and going live in June. And I'm a serial MOOC learner myself. In the last 12 months I've taken the following seven courses:
Ebola in Context – FutureLearn
Ebola: Symptoms, History and Origins – FutureLearn
World War 1: Trauma and Memory – FutureLearn
Bridging the Dementia Divide – Canvas – University of Derby
Digital.Me – Canvas – University of Derby
Understanding Research Methods – Coursera
The Agile Samurai Bootcamp – Udemy
So ….. 10 things we're really learning about MOOCs. Why this title? Three to four years ago, when the new wave of MOOC providers burst on to the scene and the New York Times declared 2012 as the Year of the MOOC, too much of the conversation around MOOCs was based on hype, opinion and ridiculous binary oppositions: MOOCs are going to turn Higher Education upside down, MOOCs are irrelevant; MOOCs are good, MOOCs are evil; connectivist MOOCs are better than content-led MOOCs. And so on.
MOOCs have now had more of a chance to breathe. We are now nicely past the initial hype curve. So I want to draw on some of the recent research into MOOCs and on the developments in practice and in the market and to focus on 10 solid things that I think will be of interest to a higher education audience.
1. Massive Open Online Courses are not massive – the demand is massive
MOOCs are not massive. The courses are not massive. They are not huge gargantuan structures – if anything MOOCs are getting shorter. I think that providers are realising that the optimum length of a MOOC, given the diversity the audience and its many motivations, needs to be shorter than the MOOCs that providers were pushing out in 2012-13.
So the courses are not massive but the demand is phenomenally massive, absolutely huge. More people signed up for MOOCs in 2015 than they did in the first three years of the 'modern' MOOC movement. According to data collected by Class Central the total number of students who have signed up for at least one MOOC has passed 35 million. So we're talking about approximately 17 million new MOOC sign ups in 2015 alone!!!! These figures are phenomenal.
The UK's FutureLearn grew its user base from 800,000 students at the end of 2014 to nearly three million students. This month they are likely to pass that 3 million mark for registered learners.
But what do these figures represent? They clearly represent massive demand? But demand for what? And is it unmet demand? What are the stories behind these phenomenal numbers? Who are these learners and why are they signing up for MOOCs? Hopefully I can offer some answers to some of these questions.
2. MOOC learners are motivated by the desire to learn – and by personal and career development
What the research into learner motivations tells us so far is that credentials and certificates are not driving learners to MOOCs. Principally, it's the the desire for learning that is. As are personal and career development.
So, when Edinburgh University surveyed participants on its first six courses for Coursera in 2014, the responses stacked up as follows: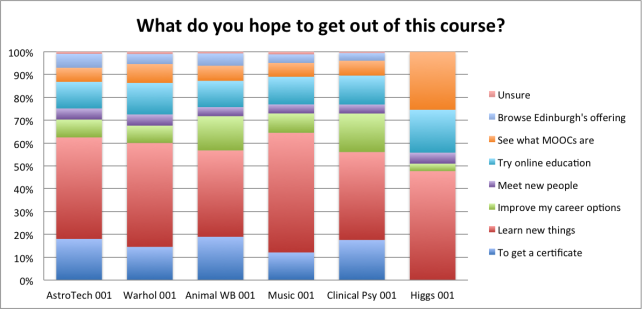 And these results, these motivations, appear to be consistent across the age ranges as we can see here: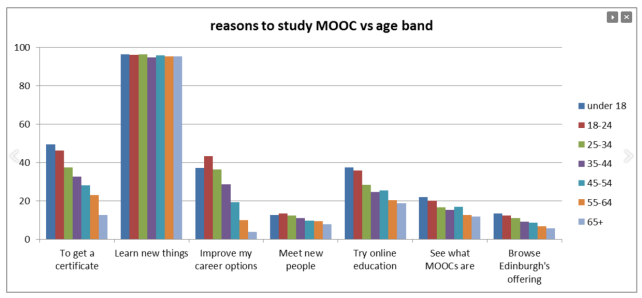 And when Edinburgh surveyed the learners on their second run of Coursera courses the same sort of results emerged: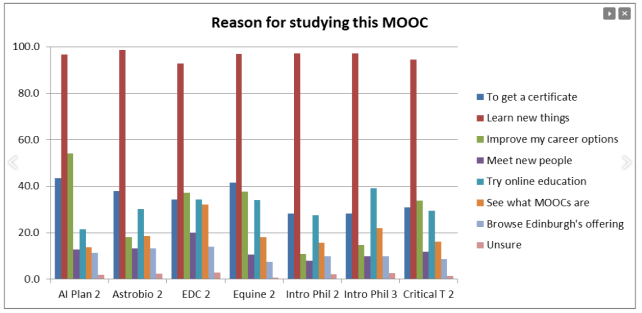 The team here at Derby received similar results when they surveyed participants on last summer's Bridging the Dementia Divide course, as we can see here: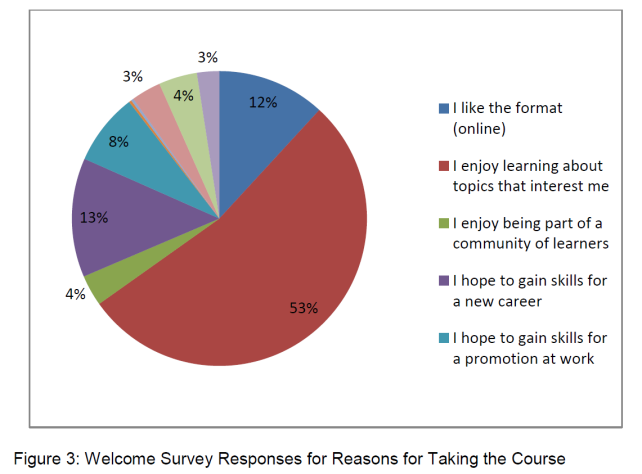 As with the Edinburgh results, here we see interest in the topic pulling in learners and also that personal and career development featuring fairly prominently.
Similarly again, a small but really insightful study from a team at Southampton University published last year found that what drew learners to the MOOCs in question was intellectual stimulation more than any other motivation. They describe their learners as being motivated by fascinating content, flexibility and the fact that the courses were free.
We get reasonably similar results in a study of the participants who registered for a MOOC in infographics and data visualisation offered by the University of Texas at Austin. [link] This was a course targeted at media professionals and it attracted over 5000 learners. When asked about their reasons for taking the MOOC, learners could choose more than one reason, and the results were as follows: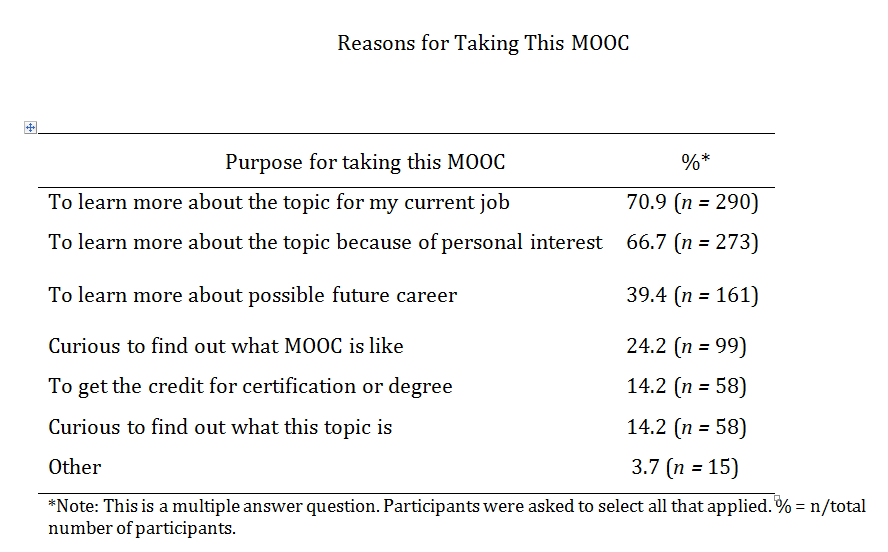 In this quite niche and professionally-focused course, learning more about the topic for my current job, learning more out of personal interest and learning more for a future career sit way ahead of earning credit for certifications or degrees.
3. Large numbers of Secondary school students are taking MOOCs
My team developed some content and supported the development for St George's University of London course on genomic medicine, which first ran on the FutureLearn platform last summer. We conducted a review the course after it had launched and one of our very first big findings, when we looked at the profiles of the participants posting to the discussion spaces on was: that after health professionals the next biggest group amongst the participants were school students. And we were really quite blown away by that. I don't have access to official figures about the volumes of school students who are registering with MOOC providers but …..
4. MOOC providers have become interested in secondary school students
MOOC providers have begun explicitly targetting school students in the last year or so. edX launched its High School initiative in September 2014 with 26 courses targetted at high school students with an emphasis on 'college-readiness'. In 2015 the collection expanded to 59 courses.
In March 2015 , FutureLearn announced the launch of its FutureLearn Choices collection: "a collection of free online courses to bridge the gap between school and higher education, and help 16 to 19 year olds choose the right degree, uni or career."
When the courses ran in September, strategically placed just ahead of the time when university applicants start preparing their UCAS applications, they attracted an average of around 11,000 learners per course, which is really similar to the average number on a FutureLearn 'mainstream' course.
If you're in Higher Education and running a course that may be unfamiliar to secondary school students or which has to work hard to recruit, this sort of MOOC is surely an excellent way to bring the delights of your subject and course to decent audience.
5. Huge numbers of educators are MOOC learners
It's not just students. It's also their teachers and people who identify as educators generally who are signing up for MOOCs in large numbers.
The professional background most popularly cited by FutureLearn learners is 'teaching and education', at around a quarter of all registered learners. That's a quarter of nearly 3 million!
In one study of participants across 11 MITx courses published last year, 28% of the 33,000 respondents identified as past or current teachers. In another joint Harvard / MIT study from last year, covering a survey of over 600,000 respondents from 35 different HarvardX and MITx MOOCs, 39% identified as past or current teachers.
The MIT study also found that self-identifying teachers also contributed a disproportionate percentage of forum comments. And their respondents in significant numbers also reported using the content in their classes. So that's a ripple impact of MOOCs that was previously invisible to us.
Based on their findings, the MIT research team suggested a number of ways that MOOCs and MOOC platforms might be improved to take account and advantage of this participation by educators. Amongst their suggestions are: facilitating educator networks on the platform; creating opportunities for expert novice interactions in the courses in peer assessment and enhancing the EdX platform to enable teachers to reuse MOOC content.
6. MOOCs are stepping stones
In the wave of hype and debate that surrounded MOOCs as they exploded on to the scene in 2011-13, a lot of the focus of that discussion was about MOOCs as widening access to higher education.
I'd like to suggest that what we are learning, and that what evolving practice is showing us, is that we might better consider many MOOCs for huge numbers of their learners as being stepping stones – stepping stones to a range of different places for learners of different motivations.
The demand for FutureLearn Choices is a good example. This is also evident in the uptake of CitizenMaths – the Level 2 Maths MOOC  for adults funded by the UfI Charitable Trust where early learners are reporting that it is meeting their goals to brush up their maths for both life and work.
Towards the end of last year Coursera published the results of a study that support this idea of the MOOC as a stepping stone. This study surveyed 52,000 Coursera course completers and sought their self-reported outcomes. Of course, 52,000 respondents who are MOOC completers out of Coursera's now 17 million registered are not necessarily representative of all MOOC learners. Interestingly, the analysis of the findings proposed that there are two learner types one might find amongst MOOC completers at least: career builders and education seekers.
Here's an overarching summary of the results: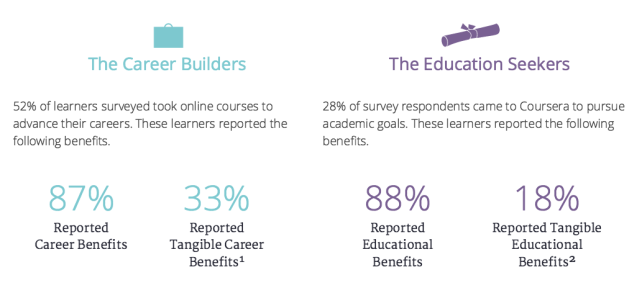 The kinds of benefits career builders were reporting were about being better equipped for their current job and a tangible benefit that was reported by 26% of the career builders was finding a new job after and on account of courses taken.
The kinds of benefits that education seekers were reporting were to do with orientation, decision making and applications: benefits like courses helping with decision-making about a course of study, or refreshing concepts before going back to study or improved admissions outcomes.
7. The research is focusing in on MOOC learners' experience
This is a good thing. In the last year or so especially, the focus of a lot of research around MOOCs has very usefully been on understanding what really diverse MOOC learners' experiences are actually like – with an emphasis on basing course design improvements on what we're learning from these studies.
For example, there are several studies looking into the qualities of a successful MOOC learner and how we can we better encourage their development.
Interestingly, we're learning things about learners' experiences that are sometimes counter to claims that are made about the courses they have been taking.
For example, another really interesting study from Southampton University – Engaged Learning in MOOCs – studied learners on a couple of FutureLearn courses. FutureLearn set out their stall as providing a social learning experience. The study found something different: that learners were engaging in and reporting high levels of independent analytical and integrated learning but low levels of social learning. The authors offered a useful observation and conclusion about a possible MOOC 'shape' to learning:
*'There may be a MOOC 'shape': higher on analytical and integrative learning, lower on social and interactive learning.' *(p.42)
8. The jury is out on the quality of learning design in MOOCs
We're also starting to see some good studies of course design. This point – that we're still to be convinced by the quality of the learning design – is perhaps obvious and predictable given the volume of new courses and providers that have started offering MOOCs in such a short space of time. But it's a definite case of 'could do better'
This study from Glasgow Caledonian University examined 76 courses from a range of MOOC providers and found that across that range there was very little evidence of learners being invited to really grapple with content and ideas, to apply new knowledge and ideas or to engage in analysis or solve problems.
My own take on this is that lessons we've known for a long time about what constitutes good online content and good online learning design are not necessarily widely-known or practised across Higher Education.
But change in this area is rapid, and having very recently become part of the FutureLearn partner community I can vouch that knowledge about what works is spread swiftly across the partner community.
9. MOOCs offer value when there is an important social need for knowledge across boundaries
This is perhaps a verbose way of saying that when it is urgent or important for lots of people to know something across and beyond professional or social or geographical boundaries, then a MOOC can be a great vehicle achieving that reach and objective.
Shortly after the start of the outbreak of the Ebola epidemic in West Africa in 2014′ the Irish organisation Alison, published 'Understanding the Ebola virus and how you can avoid it' –  a short, punchy course which to date has enjoyed over 21,000 sign ups to date. It works very well on mobile devices – very important in Africa. It's scalable – like most MOOCs there are no limits to the numbers of learners that can join; it's updatable as new information comes to light.
Similarly, in January last year FutureLearn published 'Ebola in Context'. This has been the fastest course produced on the FutureLearn platform: from conception to launch in approximately 6 weeks. I completed this course. There was a very high representation of learners from West Africa taking part from across health, social care, education and local government. In that course I witnessed probably the most engaged and valuable use of the social features of MOOC platforms and learning designs that I've come across so far. There were many genuine learning conversations involving people on the ground in West Africa in the discussion spaces.
This course was also very much designed to bust myths about Ebola in the West and outside the affected areas. It was not simply an effort to pipe education to the affected region. And this is my point about the value of MOOCs where there is a broad social need for knowledge and education. MOOCs can be a great vehicle where there is that broad need across many boundaries.
And this is why I have been working to encourage my own organisation inside the NHS to become a FutureLearn partner. There are places where our remit is not only the the education and training of new and existing health professionals but also it is to raise public, patient and carer awareness. And the openness and onlineness of MOOCs makes them a really good vehicle for achieving that broad reach. We have a programme – the Genomics Education Programme – which has a remit to raise public awareness of genomic medicine so we're working on a MOOC on whole genome sequencing which opens for registration very soon and which goes live in June.
10. The Derby contribution
Since I completed Derby's first 2 MOOCs last Summer – and produced a short evaluation of them for the team – and since I've read the three research papers that the team have produced about the courses, I thought I'd end with a few quick personal points of learning about what I think the Derby contribution to MOOCs has been to date.
Firstly, a really good course: Bridging the Dementia Divide. A really good quality course which I really enjoyed.
Secondly, nested in the research, there are some really useful tools and models to help us understand what learners are doing: the sequences in which they are doing things and how and where they are spending their time. Some interesting findings about how some learners will not take six weeks to do a 6 week course but will put in intensive effort over a shorter period.
Thirdly, healthcare systems globally have at the very top of their agendas the prevention agenda. The need to educate not healthcare professionals only but also the public, patients, carers, families and I've been really impressed with the way the team have pitched the Dementia MOOC as one example of how MOOCs can be a vehicle for that important wider effort – and I think there will be a lot of mileage and hopefully value for Derby in continuing to explore that approach.